October 10th, 2017
---
Top of the morning to you. The Irish have a saying; "May you have the hindsight to know where you've been, the foresight to know where you are going, and the insight to know when you have gone too far." This is applicable to our use of technology. Technology is a tool and should only be used when it proves to make education more effective and efficient. We need to be purposeful in how we are using these devices in our classrooms and our lives. Nonetheless, we sometimes go too far with technology, using it all the time for nothing productive. We've all witnessed the parent who is too busy reading her email to play with her child or the star struck couple who lovingly stare at their screens during their romantic dinner. In today's newsletter, we willl look at simple ways to control our technology use rather than our technology controlling us.
Control the iPad; Don't Let the iPad Control You!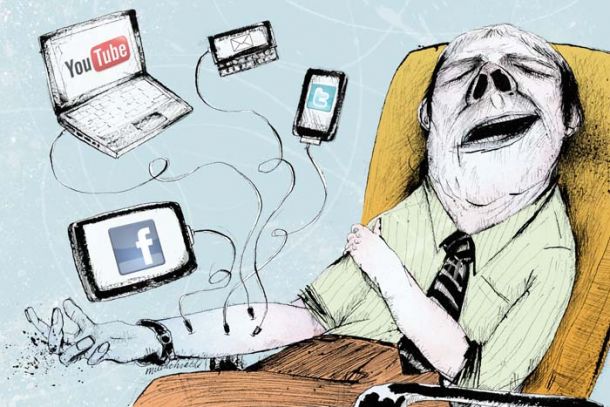 Research has proven that technology can be addictive and software developers use strategies, knowingly or unknowingly, that can develop tech-junkies. A chemical in the area of the brain that causes pleasure, called dopamine, can be triggered through very simple interactions such as causing our device to chime every time we receive a message from someone or show the number of unread emails you have in your inbox. Notifications are ruining our lives (A great article on the subject).
9 Minutes of Video (Well Worth Your Time)
---
Video courtesy of PBS Newshour.
A similar piece done by 60 Minutes.
Lets Tame The Beast: Do This in Any Order
---
You can check them off as you go. This works best if you have this email open on your computer or you print this off so you can work with your iPad while you read. Estimated Time to Complete: 4:17 (Times may vary from individual to individual)
– [ ] Go to Settings—-> Do Not Disturb. Toggle the Do Not Disturb feature so it is on. This silences your device. Decide if you want to set a schedule for this feature to be on or if you should always have it on. I have mine set to always.
– [ ] Go to Settings—> Notifications. Tap on each app and turn off allow notifications. This will stop the pop down banners when a message comes to you and turn off the badge counts that appear on your apps.
– [ ] Swipe up until you have accessed control center (Reference last weeks newsletter if you are not sure how to do this). Tapping the bell will allow you to quickly turn silence on and off. Note, this silences noises made by notifications and does not mute your audio. Tapping the crescent moon will allow you to turn Do Not Disturb off and on quickly.
– [ ] Tap on an app and drag it over another app until a folder is created.Now, drag all your apps into that folder. This forces you to know exactly what app you want to use when go into your iPad. You can pull down on the home screen of the iPad and search for that app rather than browsing through all of your apps. You can also place commonly used apps on the dock (See the newsletter from two weeks ago if you forgot how to do this).
– [ ] Set a time of the day that you check and respond to messages. Stick to it and honor your non technology times.
Teacher Thought Bubble
---
Being role models with our use of technology is just as important as knowing how to effectively use it. Be cognizant of your use and set good examples by putting the device away when you should be focused on students, co-workers, and other humans in general.
Talk with students and parents about the powers at work to make us all addicted to our devices. Teach them how they can control the devices and not be controlled by it. There will be more in future newsletters about parents parenting with the iPad.
Have technology free days in your classroom.
When not using the iPads. require students to have their iPads closed. Confiscate the device if they cannot follow your expectations.
Require students to turn on do not disturb and to turn off notifications when in class. There is no need for those features to be on at all with our students' devices.
Using the Apple Classroom App, lock students into an app they are to use for class so they are not easily distracted by other apps.
If you have your own thoughts on this topic and these suggestions, feel free to send them to me.
Upcoming Topics
---
iPad Time Savers
Accessibility
All about the Keyboard, Keyboard, Keyboard
Helping Parents Parent with the iPad
Tools You Don't Know You Have
Your Feedback
---
This newsletter is an experiment. It is also flexible to your needs. Please feel free to provide your feedback on the usefulness of the information I have been sending you by replying to any of the newsletter emails. Are there other topics you would like me to cover? Is something not clear and needs further explaining? I value your feedback and will use it to make this newsletter better for you. Thank you!